Promotional Products Artwork Guidelines
Promotional products are part of any good strategic marketing plan. They're a great way to capture new customers and spread your brand reach through gentle yet reinforced reminders — such as your logo on a useful mug or umbrella. Choosing the perfect product to capture your brand and event (i.e. where you plan to distribute them) is a creative, rewarding task. But, there's one other MEGA thing to consider — your artwork for the promotional products.
Just as you took the time to search tons of product options, we urge customers to spend equal time (maybe even more) considering the artwork they'll be using. The artwork is the icing on the cake — and what makes your promo items stand out. At Canpromos, we're happy to work with customers who already have their artwork teed up and ready to go, just keep in mind it may need to be tweaked to ensure it looks best on a specific item. On the other hand, perhaps you're in the early brainstorming stages — no sweat. We'll join in on the brainstorm to ensure your product and artwork complement one another.
This guide covers the basics of ensuring your artwork turns out as good as it looks in your head. We'll go over key considerations, such as the imprint area, choosing the right product to match your artwork, different printing methods, and finally, how to submit your artwork to Canpromos.
What is an Imprint Area Anyway?
The imprint area, or the area available for printing on a product, is essentially the most important spot on your promotional item. It's where you show off your brand and hopefully catch the eye of potential new customers, so it's important to make it count. Sure, potential customers may still love the water bottle or t-shirt you gift them, but it won't be doing your business any favors if the artwork representing your brand doesn't stand out.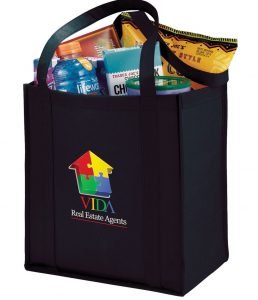 It's important to keep in mind the imprint area is smaller than the actual product.Which is to say, just because a product has space doesn't mean the entire space is usable. All products have designated imprint areas, which are clearly labeled on our website so there's no guesswork needed. When looking at a product, click on the "Imprint Details" tab to get the specific imprint area. For example, Grocery Shopping Tote
That said, there are no hard and fast rules about available imprints, so again, always be sure to check out our website for details on the imprint area. Why? Because the imprint area is different depending on the product. Basically, it's been predetermined to ensure your design looks spectacular — crisp with a good ratio against the total size of the product. For this reason, it's likely a design for something small, such as a USB key, would be much simpler than something for a t-shirt, which can handle a more detailed, intricate (and larger) design.
Another factor in designating the imprint area is the printing process. This varies between products — and that variation is a good thing. Golf balls, for example, need to be printed differently than apparel, which has more options for printing, such as screen printing and heat pressing. Simply said, you just can't print on an entire round ball, and so pad printing (think of it like a stamp) will be employed.
Choosing the Right Product for Your Artwork
When reviewing the many available product options, you always need to keep your artwork in mind. To begin, make sure the product has a big enough coverage area to fit your artwork. What looks good on a pen may not look good on a larger item, such as a sweatshirt, and vice versa. Apparel, like sweatshirts and t-shirts, are great for displaying both a single logo and/or a detailed message. On the other hand, any real detail on a small item, such as a pen, key chain, reusable straw, or popular tech accessory, will be too difficult to read, making the effort to brand them an unfortunate wash. For these items, we recommend a crisp, simple approach — your brand name, for example. If you'd prefer to find an item that can accommodate a logo, check out our drinkware, like mugs and reusable water bottles, which are excellent for displaying logos. Want to go big? Look at our custom bags, which have plenty of space for logos, slogans, and even contact information, such as a website or phone number.
Overall, design is important…really important! You don't want to make your artwork look too busy with text that discourages people from using the item. If you have a lot to say with your design, you just need to size-up with your product (maybe the bag we suggested above). Prefer to keep it simple? A webcam cover or USB key just may be perfect.
Choosing Your Printing Method
We touched on this earlier, but different products have different printing methods. This is to accommodate the various sizes, shapes, and materials of our products. The available printing methods for any product are chosen to ensure a clean, high-quality final product. Here are the most common printing styles we use:
• Screen printing is typically the most cost-effective type of printing. The process works by putting your logo/message/whatever you want printed onto a screen that's made of nylon or polyester. Ink is then spread across the screen, which seeps onto the product below — a t-shirt, for example.
• Digital printing is the new rage in the printing world — and the most sought after nowadays thanks to its ability to print in a much broader range of colors than traditional printing. The beauty of digital is that you can capture as many colors as needed, and can even print a photograph.
• Pad printing, which we mentioned above in the golf ball example, works essentially like a stamp. Your logo/design is made up on a stamp, which is then pressed into ink and then pressed down onto your product. It's a popular method to use, especially for items like stress balls which have a rounded surface.
• Transfer printing is typically used for fabric items, such as clothing and bags. Your design is created on a sticker service, which is then pressed down onto the fabric item.
• Embroidery, similar to transfer printing, is used on fabric items. Unlike all the other printing options we've described, embroidery does not use ink. Instead, it uses colored threads sewn into the fabric. This style of printing is more high-end and offers long-lasting quality to match.
• Laser engraving is used on metal products. Like embroidery, it does not use any ink, but it doesn't use thread either — or any color for that matter. Laser engraving cuts your design directly into the product so the products material is what shines through as your logo.
No matter which printing method you use for your promotional products, make sure the colors you choose match. It sounds simple, but it is something individuals may overlook in all the excitement of picking out products. And a cautionary tale — never print black on black. You may laugh, but it's actually a common mistake! Of course, with Canpromos that's not something you have to worry about, as we review every single order for potential issues, and also provide eProofs (virtual proof) for you to review before printing.
How to Submit the Perfect Artwork for Promotional Items
Ready to submit your artwork and get your promo items rolling? A couple technical things to keep in mind:
• File type — preferred file type is a vector format. This can be done in many different programs such as the in Adobe® Creative Suite. That said, non-vector formats are still acceptable, they just may require a bit of extra time and may also require graphic design work. Examples of non-vector formats include Adobe® Photoshop®, Microsoft® Office® files and web Image files.
• Color — if printing in color, you'll want to make sure the colors you've chosen match the rest of your branding. After all, a promotional item is an extension of your brand — it should be instantly recognizable. Canpromos can PMS color match in addition to creating pre-production samples, if needed.
Pantone Matching System®
Otherwise known as PMS numbers. If you can provide PMS numbers for your artwork that would be great. However if you can't there's no need to worry. We can select a standard PMS color, or we can do a PMS match to closely match your artwork.
Click the button to the right in order to view the PMS Color Chart. PMS CHART
The Pantone® company has evolved into being the standard for color communication in the printing industry. When a system such as The Pantone Matching System® is used, the imprint artist indicates the specific PMS number on the artwork so the printer uses the proper color of ink.
We hope this guide has left you feeling informed and ready to tackle the aspect of artwork next time you're shopping for promotional items for your brand. Of course, we have experts ready to assist you with any questions or needs you may have; we never want customers to go it alone. Getting your artwork just right isn't an easy task, which is why we also have graphic designers on staff to help adjust or even create artwork for you. You can reach us by phone, email, or even live chat. Our knowledgeable staff can walk you through anything you may need — just contact us!